6. Gham Uthane Ke Liye – ग़म उठाने के लिए
ग़म उठाने के लिए हम तो जिए जा रहे हैं,
ज़हर ज़िन्दगी का हंस के पिए जा रहे हैं।
Gham uthane ke liye hum to jiye jaa rahe hain,
Zeher zindagi ka has ke piye jaa rahe hain.
---
7. Yahi Saza Hai Meri – यही सजा है मेरी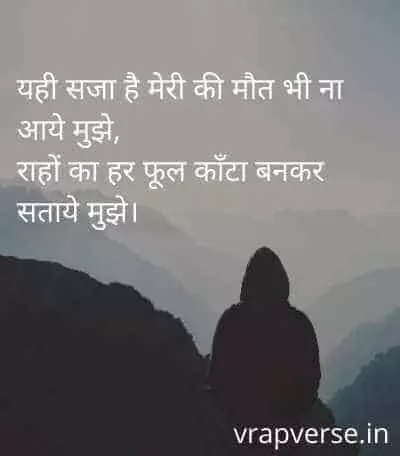 यही सजा है मेरी की मौत भी ना आये मुझे,
राहों का हर फूल काँटा बनकर सताये मुझे।
Yahi saza hai meri ki maut bhi naa aaye mijhe,
Rahon ka har phool kaanta ban kar sataye mujhe.
---
8. Zindagi Ko Maut Se – ज़िन्दगी को मौत से
ज़िन्दगी को मौत से चुराने चले,
हम इस लकीर को फिर एक दफा आज़माने चले।
Zindagi ko maut se churane chale,
Hum is lakeer ko fir ek dafa azmane chale.
---
9. Ishq Me Tere – इश्क़ में तेरे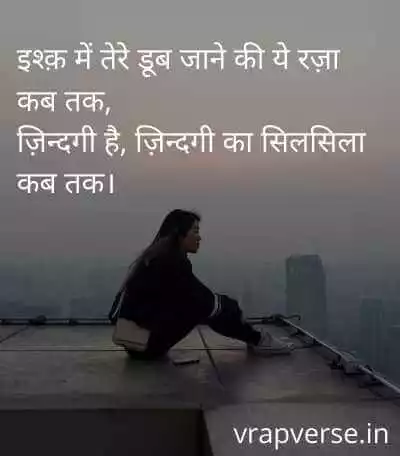 इश्क़ में तेरे डूब जाने की ये रज़ा कब तक,
ज़िन्दगी है, ज़िन्दगी का सिलसिला कब तक।
Ishq me tere doob jaane ki ye raza kab tak,
zindagi hai, zindagi ka silsila kab tak.
---
10. Mujhe Rehna Hai Ab – मुझे रहना है अब
मुझे रहना है अब तेरी पनाहों में,
मौत भी आये तो बस तेरी बाहों में।
Mujhe rehna hai ab teri panaho me,
Maut bhi aaye to bas teri baahon me.
Also Read Dard Bhari Shayari, Zindagi Shayari, Shayari on Life