हमारे पास Attitude Shayari के सभी नए शीर्ष और नवीनतम संग्रह हैं। खुद को गर्व महसूस कराने और उन सभी लोगों का मुंह बंद करने के लिए यहां पढ़ें, जो आपके बारे में मजाक बनाते हैं। उनके साथ साझा करें ताकि उन्हें पता चल सके कि आप सबसे अच्छे हैं।
we have all new top and latest collection of Attitude Shayari. Read here to make youself feel proud and shut mouth of all the people that makes fun about you. Share with them to let them know that you are the best.
---
ATTITUDE SHAYARI |

ATTITUDE SAHAYRI IN HINDI
Get best attitude shayari in hindi (एटीट्यूड शायरी) here and share with your friends
---
1. Duniya Ki Bheed – दुनिया की भीड़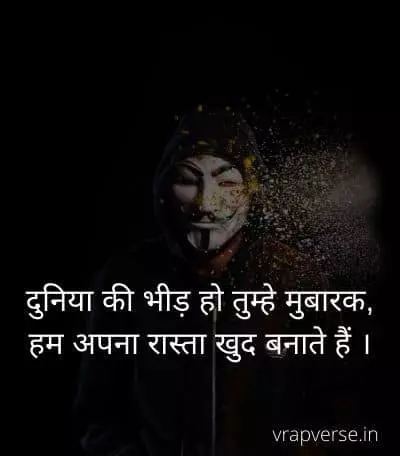 दुनिया की भीड़ हो तुम्हे मुबारक,
हम अपना रास्ता खुद बनाते हैं ।
Duniya ki bheed ho tumhe mubarak,
Hum apna raasta khud banate hain
---
2. Dil Me Rahe The – दिल में रहे थे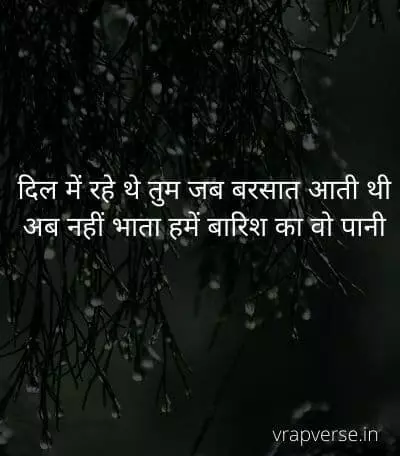 दिल में रहे थे तुम जब बरसात आती थी
अब नहीं भाता हमें बारिश का वो पानी
Dil me rahe the tum jab barsaat aati thi,
Ab nahi bhaata humein baarish ka wo paani.
---
3. Jo Hausla Rakhte Hain – जो हौसला रखते हैं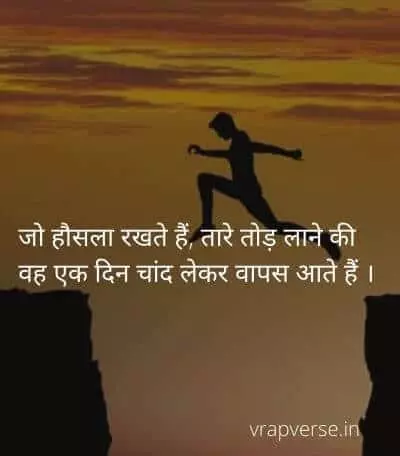 जो हौसला रखते हैं, तारे तोड़ लाने की
वह दिन चांद लेकर वापस आते हैं ।
Jo hausla rakhte hain taare tod laane ki,
Wo ek din chaand le kar wapas aate hain.
---
4. Kamyabi – कामयाबी

कामयाबी हाथों की लकीर में नहीं
माथे की पसीने में होती है ।
Kaamyabi haatho ki lakeer me nahin,
Maathe ki paseene me hoti hai
---
5. Dil Ko Jala Kar – दिल को जला कर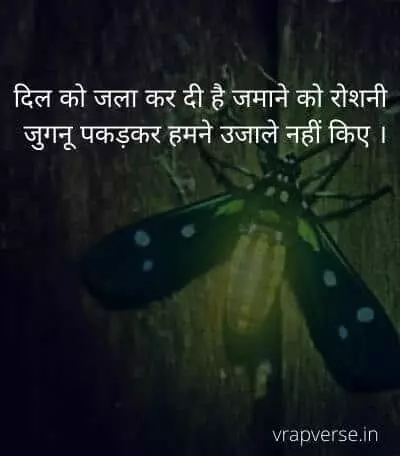 दिल को जला कर दी है जमाने को रोशनी
जुगनू पकड़कर हमने उजाले नहीं किए ।
Dil ko jala kar di hai jamane ko roshni,
Jugnu pakad kar humbe ujaale nahi kiye