Read the best, new and all kind of two line shayari here. Whether you want a romantic, sad, love or life, you will find all that here. share on facebook, whatsapp and instagram with your friends.
सबसे अच्छी, नई और सभी तरह की Two Line Shayai यहाँ पढ़ें। चाहे आप एक रोमांटिक, उदास, प्यार या जीवन के लिए शायरी चाहते हैं, आपको यहां वह सब मिलेगा। फेसबुक, व्हाट्सएप और इंस्टाग्राम पर अपने दोस्तों के साथ साझा करें।
---
TWO LINE SHAYARI |

BEST TWO LINE SHAYARI IN HINDI
सबसे बेहतरीन दो लाइन शायरी यहाँ पढ़ें
---
1. Fir Se Bikhadne – फिर से बिखरने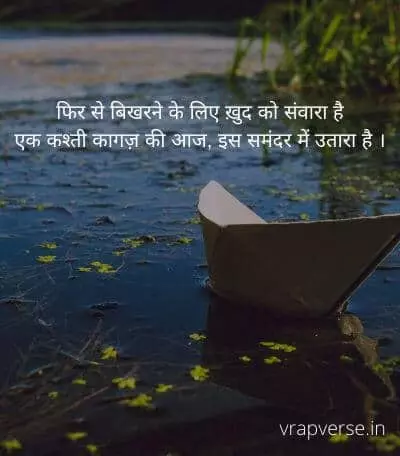 फिर से बिखरने के लिए ख़ुद को संवारा है
एक कश्ती कागज़ की आज, इस समंदर में उतारा है ।
Fir se bikhadne ke liye, khud ko sanwaara hai
Ek kashti kagaz ki aaj, is samandar me utaara hai
---
2. Ek Zalzala – एक ज़लज़ला
एक ज़लज़ला जो उल्फत-इ-दरिया की कहानी है,
एक शाम जो उल्फत में दीवानी है।
Ek zalzala jo ulfat-e-dariya ki kahani hai,
Ek shaam jo ulfat me deewani hai.
---
3. Yaadon Me Unki – यादों में उनके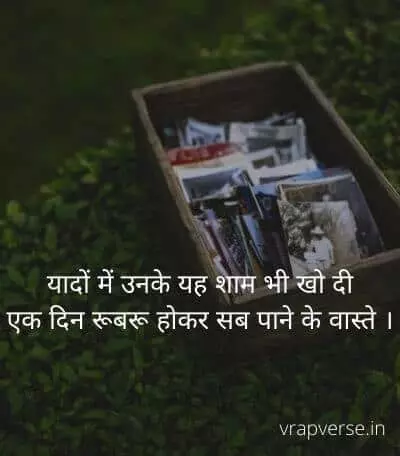 यादों में उनके यह शाम भी खो दी
एक दिन रूबरू होकर सब पाने के वास्ते ।
Yaadon me unke ye shaam bhi kho di,
Ek din rubaru hokar, sab paane ke vaaste
---
4. Zamana Duriyon Ka – ज़माना दूरियों को
ज़माना दूरियों का मतलब नहीं जानता,
हमारे प्यार की वो ताक़त नहीं जानता। 

Zamana duriyon ka matlab nahi jaanta,
Humare pyar ki wo taqat nahi jaanta.
---
5. Haan Ye Alag Baat Hai – हां ये अलग बात है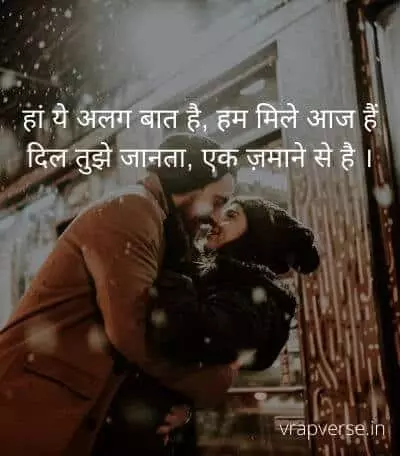 हां ये अलग बात है, हम मिले आज हैं
दिल तुझे जानता एक ज़माने से है ।
Haan ye alag baat hai, hum mile aaj hain
Dil tujhe jaanta ek zamane se hai