हमारे पास यहां प्रेमी दिल के लिए सबसे अच्छी Chand Shayari (चाँद शायरी) का collection है। उनके प्रति अपने प्यार की गहराई दिखाने के लिए और उन्हें यह बताने के लिए कि वे कितने सुंदर हैं।
We have here collection of the best chand shayari (चाँद शायरी) for a loving heart. Share with your loved one to show the deepness of your love towards them and to tell them how beautiful they are. Share it with your friend or loved once on Facebook, Instagram, and WhatsApp.
---
CHAND SHAYARI

| BEST CHAND SHAYARI IN HINDI
सबसे बेहतरीन चाँद शायरी यहाँ पढ़ें
---
1. Meri Nigahon Me – मेरी निगाहों में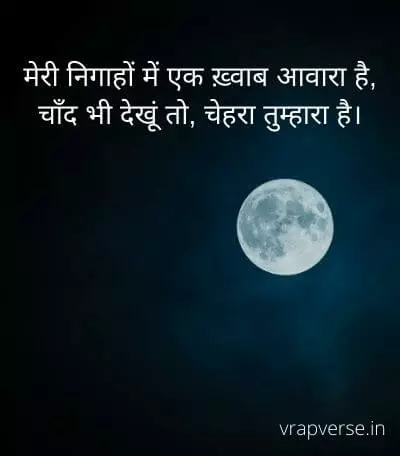 मेरी निगाहों में एक ख़्वाब आवारा है,
चाँद भी देखूं तो, चेहरा तुम्हारा है।
Meri nigaho me ek khwab awara hai,
Chand bhi dekhun to, chehra tumhara hai.
---
2. Chand Aaj Koi – चाँद आज कोई
चाँद आज कोई पैग़ाम लाया है,
तेरी यादें समेट के, अपने साथ लाया है।
Chand aaj koi paigam laaya hai,
Teri yaadein samet ke, apne saath laaya hai.
---
3. Aaj Shaam Ye Chand – आज शाम ये चाँद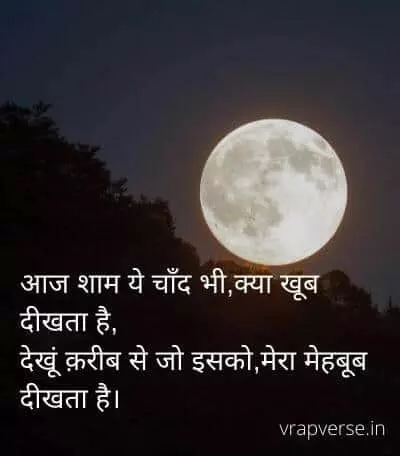 आज शाम ये चाँद भी, क्या खूब दीखता है,
देखूं क़रीब से जो इसको, मेरा मेहबूब दीखता है।
Aaj shaam ye chand bhi, kya khoob dikhta hai
Dekhun qareeb se jo isko, mera mehboob dikhta hai.
---
4. Tere Husn Ke – तेरे हुस्न के | Chand Shayari
तेरे हुस्न के दामन को, हमने संवर कर देखा है,
चाँद देखो आज फिर, फलक से उतर कर देखा है।
Tere husn ke daman ko humne sanwar kar dekha hai,
Chand dekho aaj fir falak se utar kar dekha hai.
---
5. Roshni Chand Ki – रौशनी चाँद की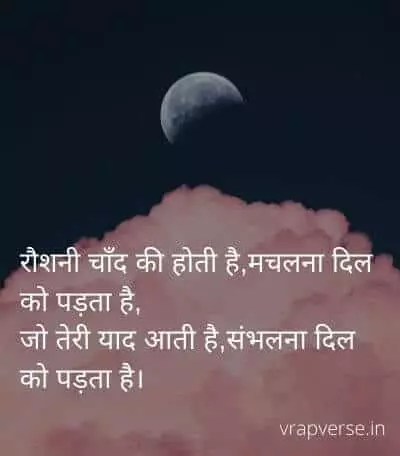 रौशनी चाँद की होती है, मचलना दिल को पड़ता है,
जो तेरी याद आती है, संभलना दिल को पड़ता है।
Roshni chand ki hoti hai machalna dil ko padta hai,
Jo teri yaad aati hai sambhalna dil ko padta hai.