यहां पढ़ें अपने प्यार, दर्द और यादों को व्यक्त करने के लिए सबसे अच्छी Barish Shayari in Hindi जो हमारे दिमाग में एक रौनक वापस लाती है। अपने पुराने पलों को संजोएं और अपने दोस्तों और प्रियजनों के साथ व्हाट्सएप, फेसबुक और इंस्टाग्राम पर साझा करें।
Read here the best barish shayari for expressing your love, pain and memories that a raiin brings back in our mind. Relive your old moments and share on whatsapp, facebook and instagram with your friends and loved ones.
---
BARISH SHAYARI |

BEST SHAYARI ON BARISH
सबसे बेहतरीन बारिश शायरी यहाँ पढ़ें
---
1. Barish Ki Boondein – बारिश की बूंदे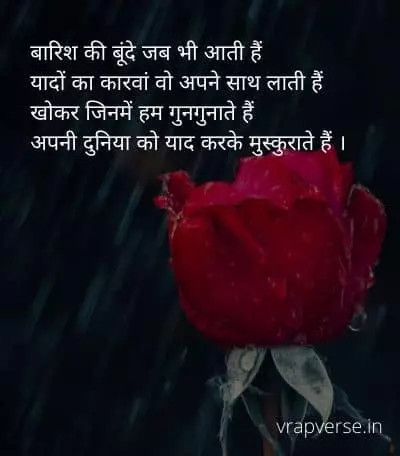 बारिश की बूंदे जब भी आती हैं
यादों का कारवां वो अपने साथ लाती हैं
खोकर जिनमें हम गुनगुनाते हैं
अपनी दुनिया को याद करके मुस्कुराते हैं ।
Baarish ki boondein jab bhi aati hai,
Yaadon ka karwan wo apne saath laati hai,
Kho kar jinme hum gungunaate hain,
Apni duniya ko yaad kar ke, muskurate hain.
---
2. Pal Do Pal Ki – पल दो पल की
पल दो पल की ख़ुशी समेटते हैं,
बारिश में हम अपनी ज़िन्दगी समेटते हैं।
Pal do pal ki khushi samet te hain,
Barish me hum apni zindagi samet te hain.
---
3. Shaam Dhalti Hai – शाम ढ़लती है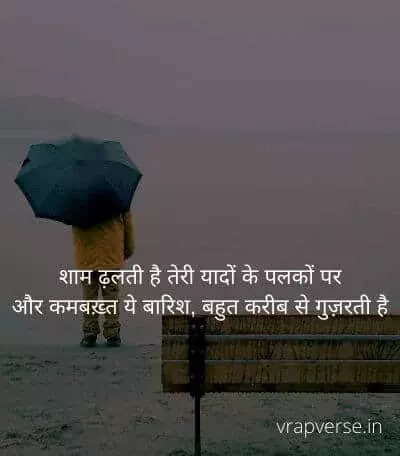 शाम ढ़लती है तेरी यादों के पलकों पर
और कमबख़्त ये बारिश, बहुत करीब से गुज़रती ‌है ।
Shaam dhalti hai teri yaadon ke palkon par,
Aur kambakht ye baarish bohot qareeb se guzarti hai.
---
4. Yaadon Me Jab – यादों में जब
यादों में जब खो जाते हैं,
भीगते-भीगते हम मुस्कुराते हैं। 

Yaadon me jab kho jaate hain,
Bheegte-bheegte hum muskurate hain.
---
5. Barishein Aa Gayi – बारिशें आ गईं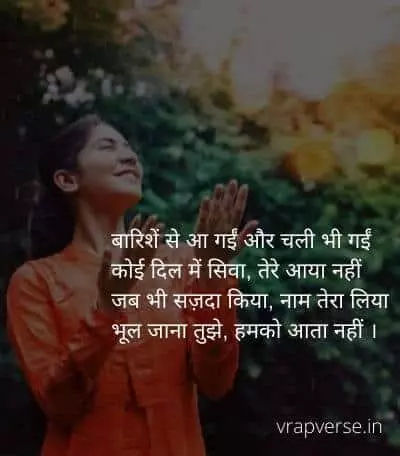 बारिशें आ गईं और चली भी गईं
कोई दिल में सिवा, तेरे आया नहीं
जब भी सज़दा किया, नाम तेरा लिया
भूल जाना तुझे, हमको आता नहीं ।
Baarishein aa gayi, aur chalo bhi gayi,
Dil me tere siwa, koi aaya nahi
Jab bhi sajda kiya, naam tera liya
Bhool jaana tujhe humko aaya nahin.