एक प्रेमी के दिल से सीधे सर्वश्रेष्ठ मोहब्बत शायरी (Love Shayari in Hindi ) पढ़ें। व्हाट्सएप और फेसबुक स्थिति पर साझा करने के लिए बिल्कुल परफेक्ट चॉइस, यह दिखाने के लिए कि आपका प्यार कितना गहरा है। बस पढ़िए और अपनी लव लाइफ में खो जाइए।
Read the best Love Shayari in Hindi directly from a lover's heart. Perfect for sharing on whatsapp and facebook status to show how deep your love is. Just read and get lost in your love life.
---
LOVE SHAYARI IN HINDI

| BEAUTIFUL HINDI LOVE SHAYARI
Read here the best love shayri in Hindi (मोहब्बत शायरी) and share with your lover
---
1. Wo Jab Aankhon Se Yun – वो जब आंखों से यूं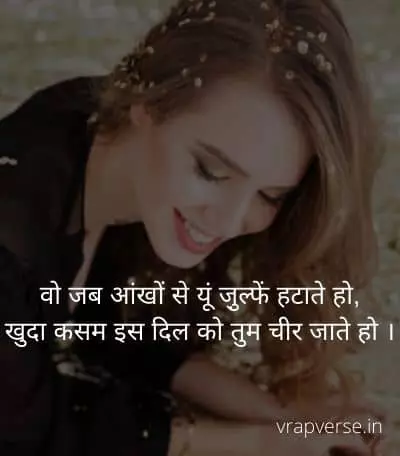 वो जब आंखों से यूं जु़ल्फें हटाते हो,
खुदा कसम इस दिल को तुम चीर जाते हो ।
Wo jab aankhon se yun zulfein hataate ho,
Khuda kasam is dil ko tum cheer jaate ho.
---
2. Gustakhiyan – गुस्ताखियां
गुस्ताखियां इन आंखों की छुपा के तो दिखाओ,
एक बार हमसे तुम नज़रे मिला कर तो दिखाओ।
Gustakhiya in aankhon ki chhupa ke to dikhao,
Ek baar humse tum nazre mila kar to dikhao
---
3. Kisi Ki- किसी की
किसी की भी दुनिया इतनी रंगीन नहीं है
चेहरा इस जहां में तुझ सा, हसीन नहीं है।
Kisi ki bhi duniya itni rangeen nahi hai,
Chehra is duniya me tujh sa haseen nahi hai
---
4. Tu Muskuraye – तू मुस्कुराए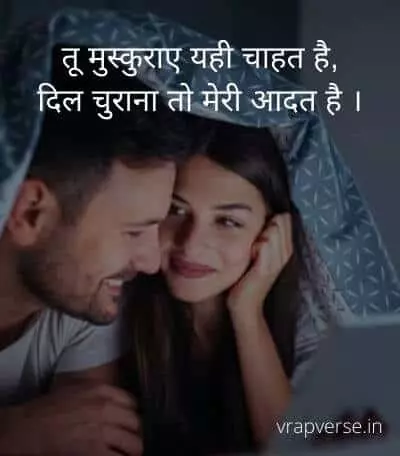 तू मुस्कुराए यही चाहत है,
दिल चुराना तो मेरी आदत है ।

Tu muskuraye yahi chahat hai,
Dil churana to meri aadat hai.
---
5. Khushiyan Is – खुशियां इस
खुशियां इस शहर में तेरे आने से होती है,
तू ना हो तो फिर ये जहां वीरान सा लगता है।
Khushiyan is sheher me tere aane se hoti hai,
Tu na ho to fir ye jahan veeran lagta hai.