6. Aanchal Me Tere – आँचल में तेरे
आँचल में तेरे कई रात है गुज़ारे,
ये जुदाई का खेल अब हमे नहीं आता।
Aanchal me tere kayi raat hai guzare,
Ye judai ka khel ab hume nahi aata.
---
7. Agar Jaana Tha – अगर जाना था

अगर जाना था एक दिन तो कह दिया होता,
हम दिल लगाने की कोशिश ही ना करते।
Agar jaana tha ek din to keh diya hota,
Hum dil lagane ki koshish hi naa karte.
---
8. Waqif To The – वाक़िफ़ तो थे
वाक़िफ़ तो थे इंसान की अदाओं से,
मगर ये समझ बैठे के तुम अलग हो। 

Waqif to the insan ki adaon se,
Magar ye samajh baithe ke tum alag ho.
---
9. Aashiqui Me Tumhare – आशिकी में तुम्हारे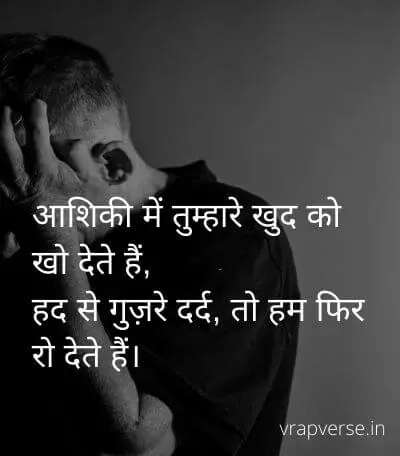 [easy_media_download url="https://vrapverse.in/wp-content/uploads/2020/08/mohabbat-kar-ke-1.jpg" force_dl="1″]
आशिकी में तुम्हारे खुद को खो देते हैं,
हद से गुज़रे दर्द, तो हम फिर रो देते हैं।
Aashiqui me tumhare khud ko kho dete hain
Had se guzre dard, to hum fir ro dete hain.
---
10. Nibhane The Nahi – निभाने थे नहीं
निभाने थे नहीं वायदे,
क्यों वायदे कर दिए हमसे,
शिकायत है शिकायत ये,
करेंगे उम्र भर तुमसे।
Nibhane the nahi wayde,
kyun wayde kar diye humse,
Shikayat hai shikayat ye,
karenge umra bhar tumse.